Whatsapp Messenger is a messaging application designed for Android as well as other smartphones. WhatsApp uses your mobile Internet connection to enable you to call and message friends and loved ones. Today we will check out how one can download WhatsApp status videos on Android smartphone, iPhone and WhatsApp web.
What is a WhatsApp Status?
WhatsApp status enables you to share text, photo, video along with GIF upgrades which get deleted or expire after twenty-four hours. As a way to send and get status updates from the contacts, your own contacts will need to have each other's phone numbers stored on your mobiles' address books. It is motivated by Snapchat and Instagram stories.
WhatsApp is not almost texting, several new features like WhatsApp status, display pictures additionally matter a lot to the people. Some people even spend hours editing a photo for display picture. But what if you see really a funny video or even an excellent movie on someone's WhatsApp status? Needless to say, you're able to get a screenshot of the image but how about a video?
How To Download WhatsApp Status On Android Smartphones
NOTE: We have used Google Files App as a file explorer in our guide. You can use any other file explorer of your choice or even your default file explorer or file manager. Just make sure that file explorer app which you are using has "Show hidden files" feature in it.
STEP 1: Download the Google Files App
Go to Android Play Store and download the Google Files App.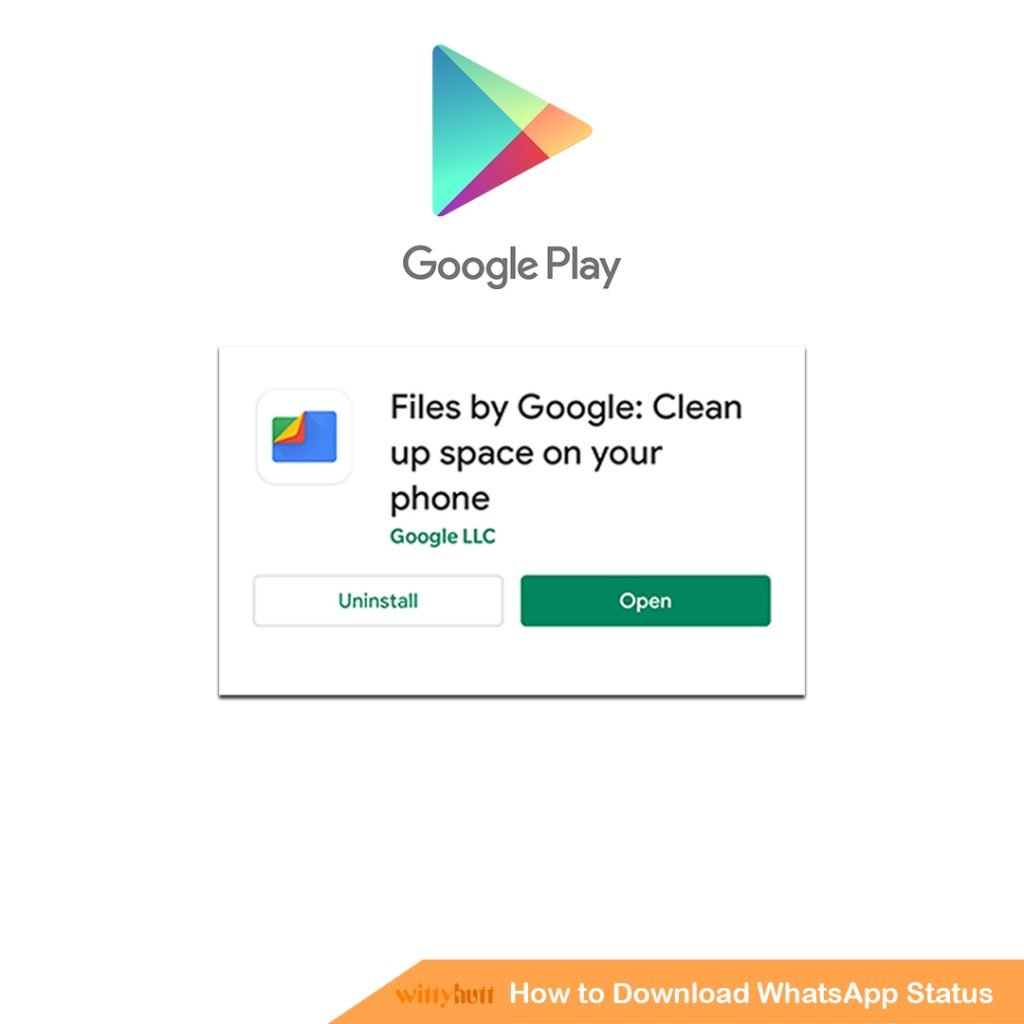 Open the Google Files app > Click on the menu icon(☰) on the top left > Go to settings and check the "Show hidden files"
STEP 3: Locate Internal Storage and then WhatsApp folder
Go to Internal Storage > WhatsApp > Media > Statuses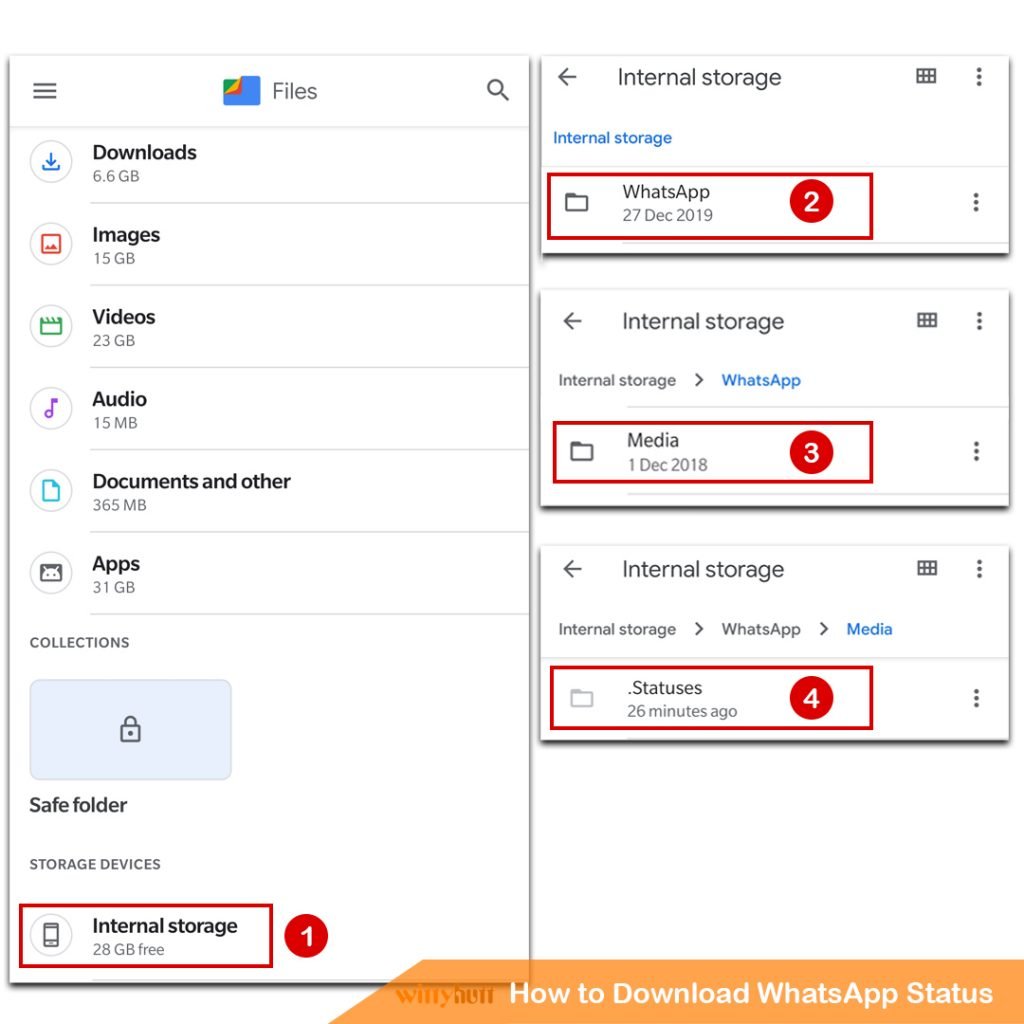 STEP 4: Finally move or copy status to another location or share with others
Each of the statuses that you have viewed will show up inside the folder. Tap the desired video or image to see it. Long press on the desired status and save it to any location of your choice in your smartphone. You can even share it with someone else.
If you have copied or moved the status in a different location, it will be visible in the gallery. Let us know in the comments below if you face any issues while downloading WhatsApp Status.
How To Download WhatsApp Status On iPhone
Due to security reasons, you cannot download WhatsApp status on iPhone. But wait, there is a trick. If you are an iPhone user you might know there is a default iPhone screen recording feature. You can use the iPhone's screen recorder feature to record WhatsApp status. After that, you can use any video editors to crop the video.
How To Download WhatsApp Status WhatsApp Web
Yes, it is very much possible to download Whatsapp status videos of friends or others through WhatsApp web. It is slightly tricky.
STEP 1: Visit WhatsApp web
Open your web browser(Chrome) and visit web.whatsapp.com. If you haven't logged in, then you first need to log in.
STEP 2: Click on the status icon
Once you have logged in with QR code, click on the status icon.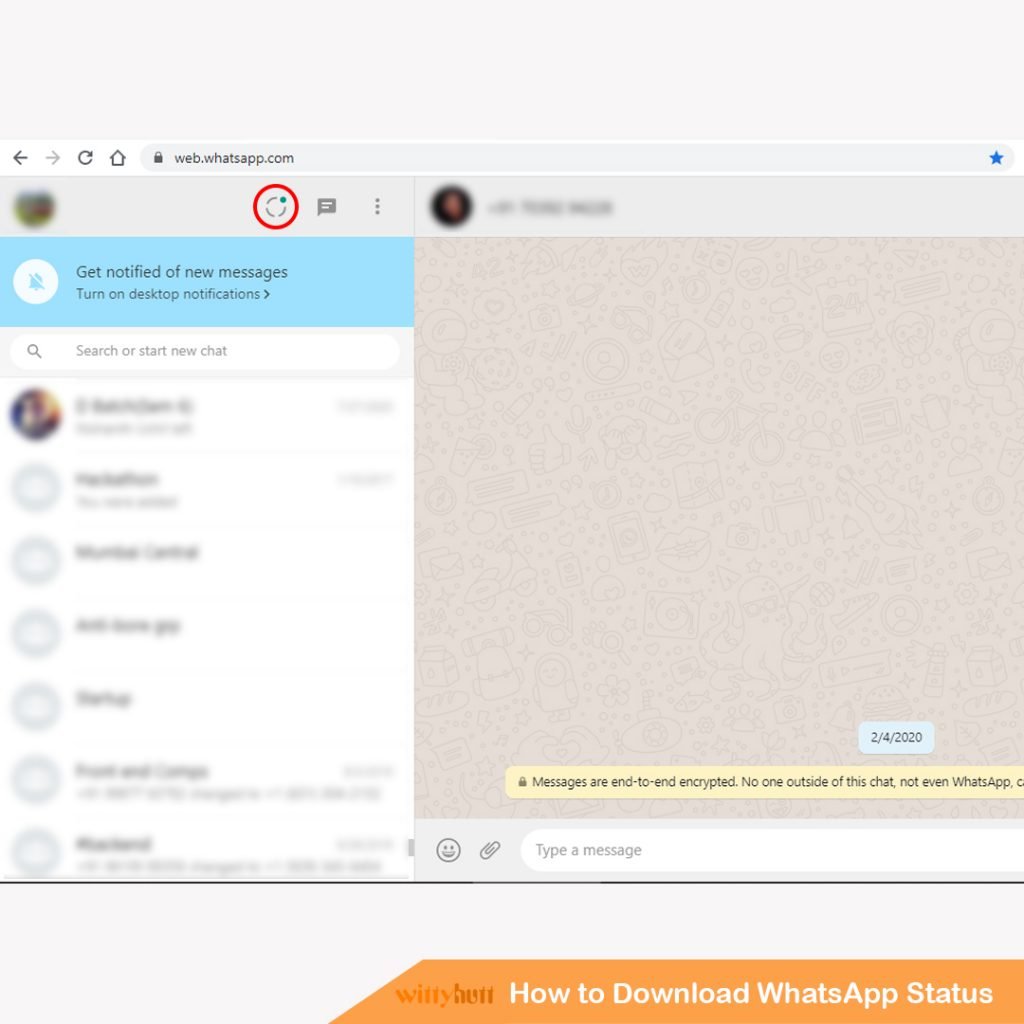 STEP 3: Open the desired status
Click on the name of the person whose status you would like to download.
STEP 4: Open the DevTools window(Chrome Browser)
If you are a Windows or Linux users press Control+Shift+I and if you are a Mac user press Command+Option+C. Once you press the mentioned keys, the developer's tool will be visible.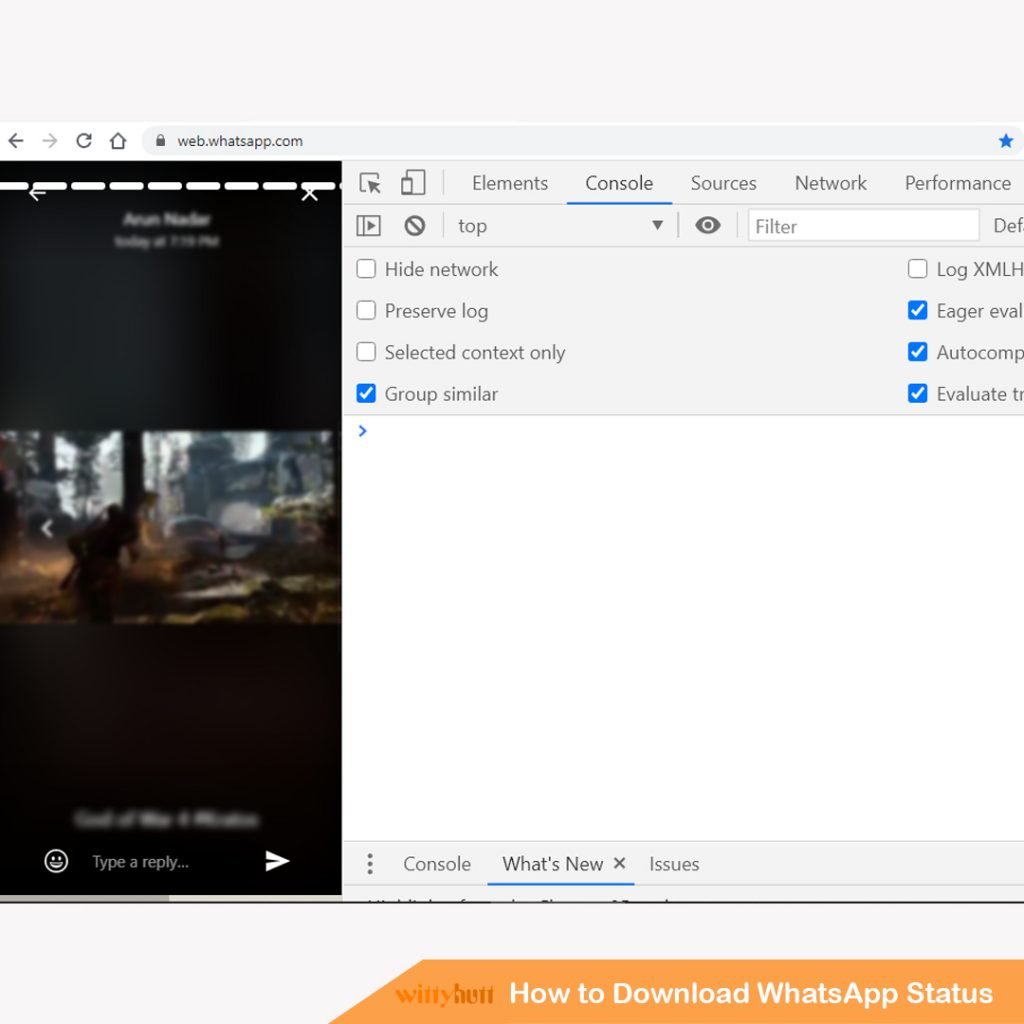 STEP 5: Click on the arrow icon & then click on the status video
Once you press the above-mentioned keys while the status is open:
If the circle part is not highlighted, click to highlight it.
Then move the cursor over the video and click on it.
STEP 6: Scroll up in the right window to see the link
Once you have click on the video or status, you will see highlighted code on the right side of the window. Scroll up a little until you see something like "blob:".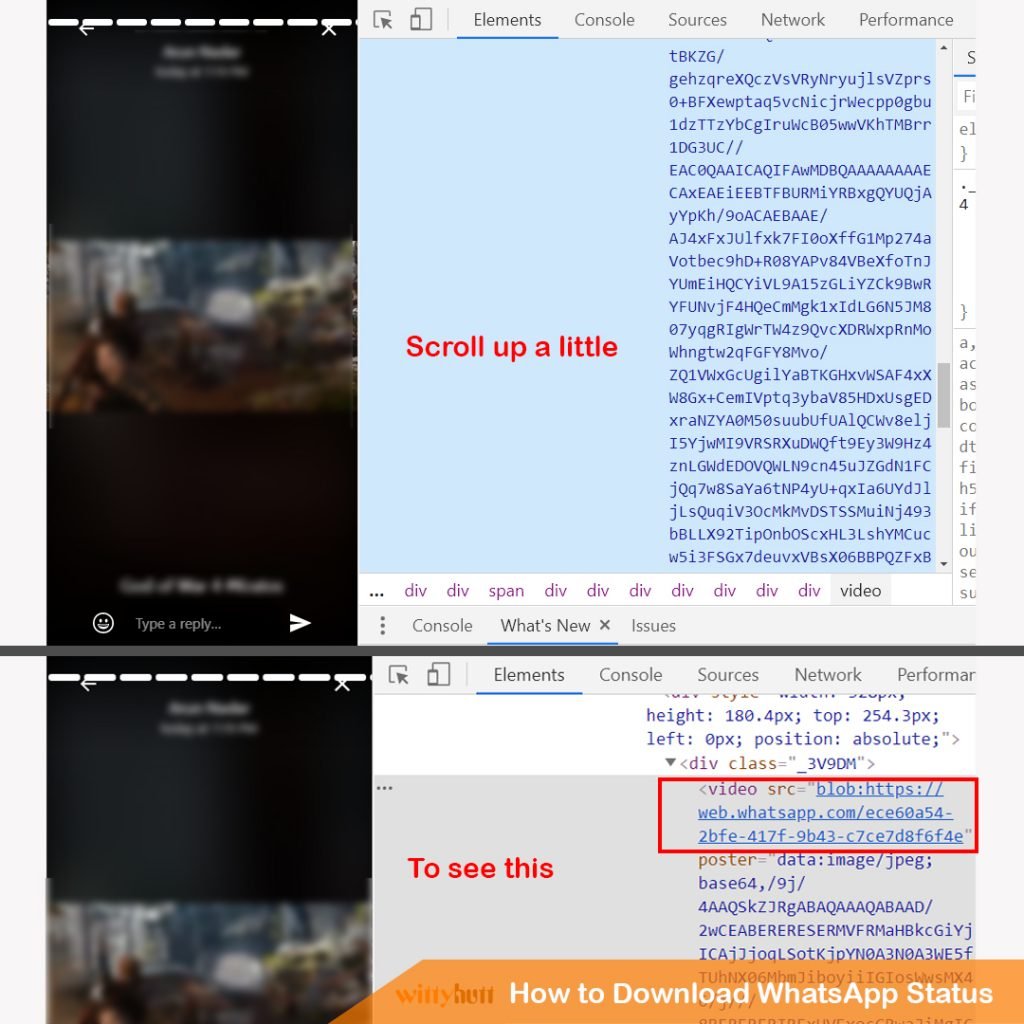 STEP 7: Right-click on the link and select "Open in new tab" option
Once you right-click on the link, an options tab will be open. Select "Open in new tab" option.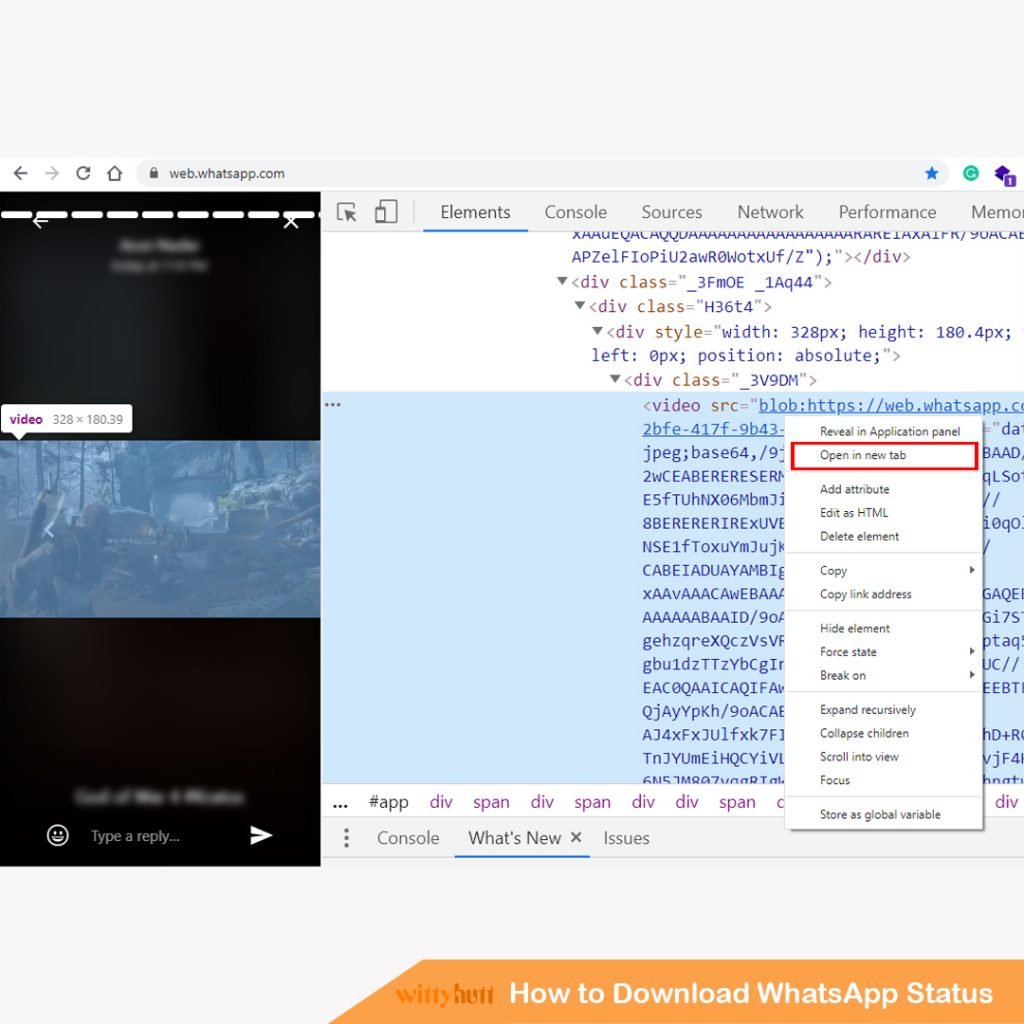 STEP 8: Take the mouse cursor on the video and click on three dots in the bottom right
Take your mouse or cursor over the video. You will see three dots. Click on it and download the video.
Your video will be downloaded. You can use the same technique to download photos too. Comment below if you can any issue in downloading WhatsApp videos.
---
Disclaimer: This post is for informational purposes only. It is not intended to provide legal advice or to address all circumstances that might arise. Individuals and entities referring to this post are encouraged to consult their own legal counsel.